Cody Goldstein, Founder
"When a drink takes someone back to a happy memory, when someone says, 'That reminds me of...'—that's our whole goal."
The husband-and-wife team behind the experiential mixology company, Muddling Memories, Cody and Camille Goldstein, are united not only in marriage, but also in business. Revolutionaries in the culinary and mixology industry, the couple has been the masterminds behind some of the most viral beverage sensations in New York City and beyond.
Meet Cody Goldstein
Cody Goldstein has been at the helm of New York City's innovative mixology scene and was nominated as one of NYC's Best Bartenders by Timeout New York. Cody's recipes and tips have been featured in leading national publications, including: SiriusXM Radio, Town & Country, Robb Report Vices, Huffington Post, Eater, Gotham, Instyle, and Fortune Magazine among others.  His television accolades include GMA, The Today Show, and Fox 5 Good Day New York. Cody is also the first ever mixologist to be named to the star studded Food Council for City Harvest.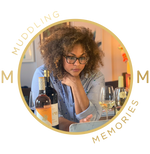 Meet Camille Parson Goldstein
Camille Parson is the Managing Partner of Muddling Memories and the former Managing Director of a private club in New York City. As a hospitality professional and tastemaker for over 20 years, her global travels have educated and inspired her to cultivate unique beverage programs, that have been celebrated in Vogue, The New York Times, Architectural Digest and New York Magazine. She is responsible for producing all logistical aspects of MM's large scale beverage programs. A former principal dancer with the Dance Theatre of Harlem, her travels on tour fueled her passion for wine, food, culture and the visual and performing arts.
More About Cody and Camille
Co-founders in business and life, with over thirty years of experience in the hospitality industry, the two have grown Muddling Memories into a successful business that focuses on beverage creation and at-home hosting. Their love story started while working in the New York City restaurant scene together. Cody, an award-winning mixologist and Camille, a highly accredited culinary maven are the perfect couple behind the bar and in the kitchen. They live, breathe and exude a dynamic love and passion for creating the ultimate drinking and dining experience. As tastemakers, they are enthusiastic about sharing their secrets and passion for pairing a great meal with the perfect drink.
Muddling Memories History
Muddling Memories has overseen strategy and brand development for world-renowned brands, such as Patron Tequila, Urbani Truffles, Campari, Diptyque, Tazo, Breyers, Rao's Homemade and more. They are creative geniuses when it comes to creating viral moments for their clients, infusing culturally relevant happenings into newsjacking opportunities that drive earned media and creating stop-in-your-scroll social media content.
The interracial and interfaith couple based out of Fort Greene, Brooklyn, have a 2-year old son, Booker, with plans to continue to grow their family. Camille and Cody are both board members of City Harvest and the Food Education Fund. City Harvest is the world's first and largest food rescue organization. Food Education Fund is a 501(c)(3) nonprofit supporting culinary-focused public high school students in New York City.