Tastemakers Network
At Muddling Memories, we build close relationships with a variety of different businesses ranging from single operator restaurants to large brands such as Tazo and Nike. Overtime, we have developed a network of clients who we represent within our broader community, connecting brands both large and small with opportunities that they would otherwise not have access to. We are calling this client network of Muddling Memories Tastemakers.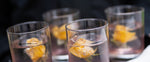 Tazo Tea, in a strategic move to drive brand awareness and connect with local communities, recently partnered with a selection of our network's restaurants to curate a campaign of shared culinary experiences. Leveraging these mutually beneficial relationships, Tazo was able to seamlessly incorporate their line of premium teas into the unique narratives and dishes created at these local establishments. The resultant campaign featured an array of engaging content, from beautifully crafted photographs and videos showcasing Tazo tea-infused dishes and cocktails, to in-depth behind-the-scenes narratives exploring the inspiration behind these creations. Tazo's masterful blend of tea with the diverse flavors of local cuisine not only demonstrated their versatility and quality, but also added an extra layer of local charm, resonating strongly with the customers' appreciation for homegrown businesses. This strategy of intimate, local involvement empowered Tazo to tap into the rich tapestry of community stories, while establishing strong, organic connections with new and existing customers.
Capitalizing on the festive spirit of the holiday season, Hellmann's Mayonnaise, in a masterstroke of marketing innovation, partnered with a notable Midtown Manhattan restaurant to launch a viral campaign. The gastronomical centerpiece of this collaboration was the unexpected yet delightful concoction of Mayonnaise Eggnog. This was no ordinary eggnog though, this was a special holiday cocktail crafted to perfection by Muddling Memories, one of the city's most respected mixologists. The campaign came to life across digital and social platforms with vibrant, visually-stunning content that left audiences intrigued and enticed. Pictures and videos of the creamy cocktail being mixed, alongside heartwarming scenes from Manhattan's bustling holiday atmosphere, quickly became an internet sensation. The campaign also made clever use of behind-the-scenes content, capturing the creative process behind the cocktail's inception. This initiative not only gave Hellmann's a new, trendy spin but also provided the Midtown restaurant and Muddling Memories with increased visibility and brand recognition. Hellmann's daring blend of tradition with innovation successfully captured the imagination of many, taking the culinary world by storm and proving that even classic ingredients like mayonnaise can offer a delightful twist to holiday celebrations.
In a bold and unprecedented marketing endeavor, Nike took a leap from the courts and tracks to the vibrant world of mixology. This unique campaign saw Nike collaborating with Muddling Memories, a renowned cocktail craftsman, to curate a series of exquisite cocktails, each inspired by a different iconic Nike shoe style. The campaign unfolded across various digital platforms, bringing forth captivating content that artistically represented the intersection of sportswear and mixology. The high-resolution imagery showcased the detailed process of creating each cocktail, highlighting the distinct features that mirrored the unique designs and color schemes of various Nike shoes, from the classic Air Jordans to the innovative VaporMax. Videos provided fascinating behind-the-scenes glimpses into Muddling Memories' creative process, showing how each shoe's design, history, and cultural significance was distilled into a refreshing cocktail. This unique approach successfully bridged the gap between fashion, sports, and gastronomy, significantly boosting Nike's brand image as an innovator, while simultaneously providing Muddling Memories with an opportunity to display their craft on a grand scale. The campaign demonstrated Nike's adaptability and its ability to transcend boundaries, resulting in a viral sensation that expanded their reach and captivated new and existing customers in a remarkably refreshing way.